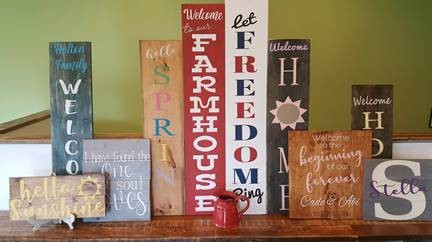 Join us on Sunday, January 19th for another fun crafty workshop!
Start the new year by crafting a fresh warm welcome for your home or gift to a friend. Grab your complimentary glass of Eola Hills wine and sip while Melanie from Simply Crafted Studio of Philomath/Corvallis will walk you through step-by-step as you craft your own 4 ft porch sign (or any med-large sign). Additional beverages available for purchase.
Tickets
Ticket sales close January 12th.
Ticket sales close February 10th for our February 16th class.
Paint the Second Side for Less!
Come back February 16th to paint the reverse side of your sign for the ultimate flip-able porch decor. Email Melanie and mention "2-sided porch sign" to receive a $20 workshop discount when you register.