Eola Hills Wine Cellars' legacy in Oregon's Willamette Valley started as winegrowers in the early '80s. We have been locally owned and operated for more than 30 years. Located in the Eola-Amity Hills AVA, we own more than 325 acres of sustainably managed vineyards. We are proud to offer a diverse range of consistency award-winning wines in addition to being one of Oregon's largest producers.
We believe that one of the most beautiful features of wine is its innate ability to create and celebrate community – whether between friends, family, or complete strangers. Wine brings people together – even when we are apart. A cornerstone of Eola Hills Wine Cellars' is building community and finding ways to support a healthy lifestyle.
We want to connect with organizations and businesses that support education, health, fitness and community-building to provide our guests and customers with opportunities for balance in their busy lives.
View Eola Hills' #EolaCares programs below and join us (whether virtually or in person) in making a difference in communities around the country.
Click To View Eola Cares One Pagers & POS
---
Patriot RED Campaign
Serving Wine & Serving A Cause
This bold, delicious red wine is a blend of Zinfandel, Sangiovese, Merlot and Pinot Noir from three states –Oregon, Washington and California. Aromas of intense fruitiness lead into a soft, smooth palate with flavors of red berry jam. A portion of proceeds from each bottle of Patriot Red purchased goes towards supporting different programs (announced on the Fourth Of July each year) for veterans and first-responders.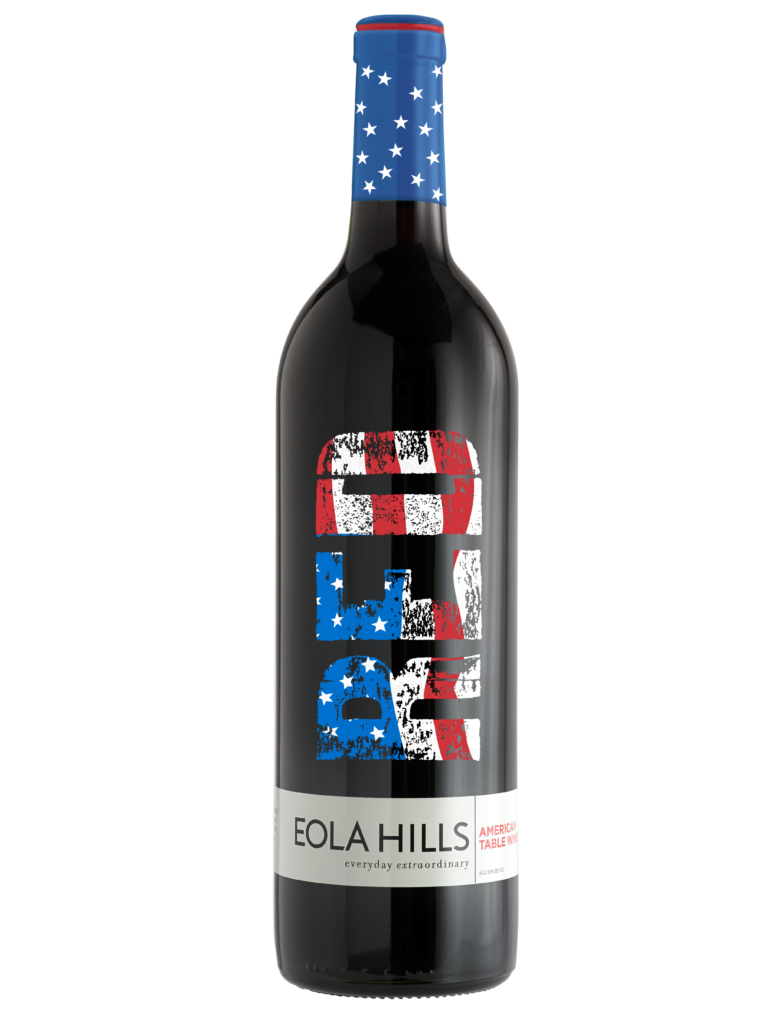 Each year, our Oregon winery selects a 501c3 Nonprofit that supports veterans and first-responders. This Fourth of July, we are proud and excited to announce our new partnership with Team Rubicon for the 2020-2021 Eola Cares Patriot Red campaign.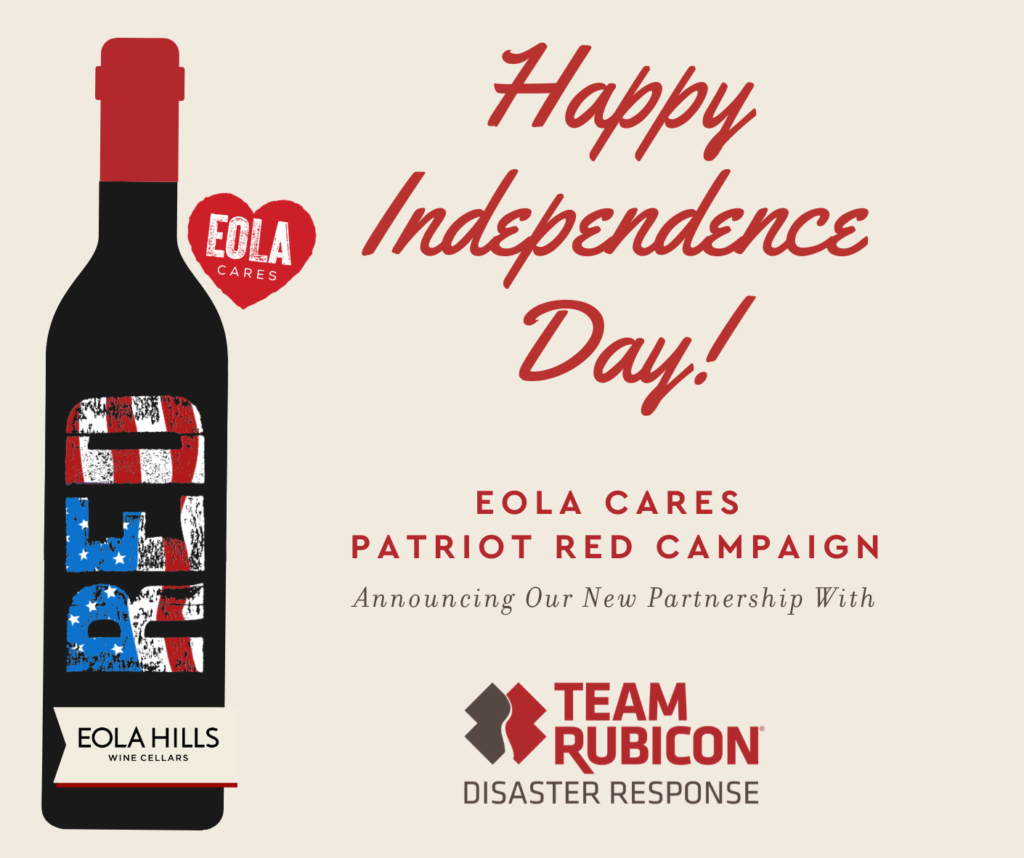 This Fourth of July, Eola Hills Wine Cellars is excited to announce a new partnership for our Eola Cares 2020-2021 Patriot Red campaign. Team Rubicon, a veteran-led disaster relief nonprofit, will receive a portion of proceeds from our heritage winery's Patriot Red blend sales to help support its mission of mobilizing veterans to continue their service by helping people prepare, respond and recover from disasters and humanitarian crises.
"We felt that with our 2020-2021 partnership, it was vital to look for veterans' and first-responder organizations that are actively responding to the COVID-19 pandemic," said Eola Hills Founder Tom Huggins. "After finding out about Team Rubicon's efforts, their mission embodies what our Patriot Red blend was crafted for – celebrating and supporting veterans while helping to serve communities near and far."Our team looks forward to announcing other initiatives throughout the next year that assist with Team Rubicon's local and national efforts. You can follow along with their efforts by visiting their interactive COVID-19 Response dashboard.
About Team Rubicon
The concept behind Team Rubicon was to provide veterans with three things they lose after leaving the military: a purpose (gained through disaster relief); community (built by serving with others); and identity (from recognizing the impact they can make).
Originally created by two Marines in the wake of the 2010 earthquake in Haiti, Team Rubicon calls on its volunteer base of veterans, first responders and medical professionals to provide immediate emergency relief following hurricanes, wildfires, tornados, and, now, pandemics.
Team Rubicon's #NeighborsHelpingNeighbors initiative asks its volunteers, known as Greyshirts, to perform individual acts of service from food delivery, transportation, lawn or pet care, to simple and safe check-ins with people who are unable to access or afford basic needs during the Coronavirus pandemic. The organization is also partnering with various state health departments to set up free COVID-19 testing sites and has launched an Emergency Food Assistance Program that delivers food or finances to at-risk families or individuals.

Purchase Patriot RED Today!
Read our press release.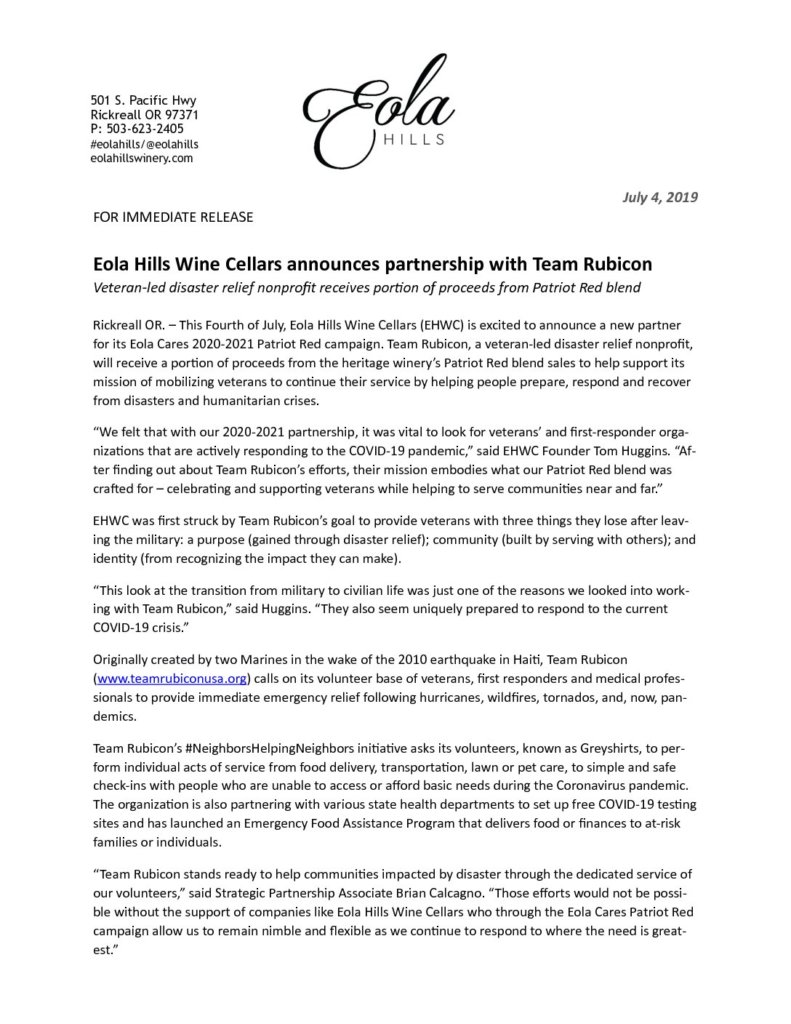 ---
Spirit Of Oregon Campaign
You Are What You Eat
Experience the Spirit of Oregon! Join Eola Hills Wine Cellars in support of Oregon Food Bank. We believe that no one should be hungry. We believe that all should have access to healthy foods and fresh fruits and vegetables.
Help us make a difference for communities in need. Give to our Eola Cares Spirit Of Oregon Fundraiser for the Oregon Food Bank. Your secure online donation will help support Oregon Food Bank's holistic approach to ending hunger through programs and efforts that provide food, education and hope to our Oregon neighbors in need.
Click Here To Donate!
Read our press release.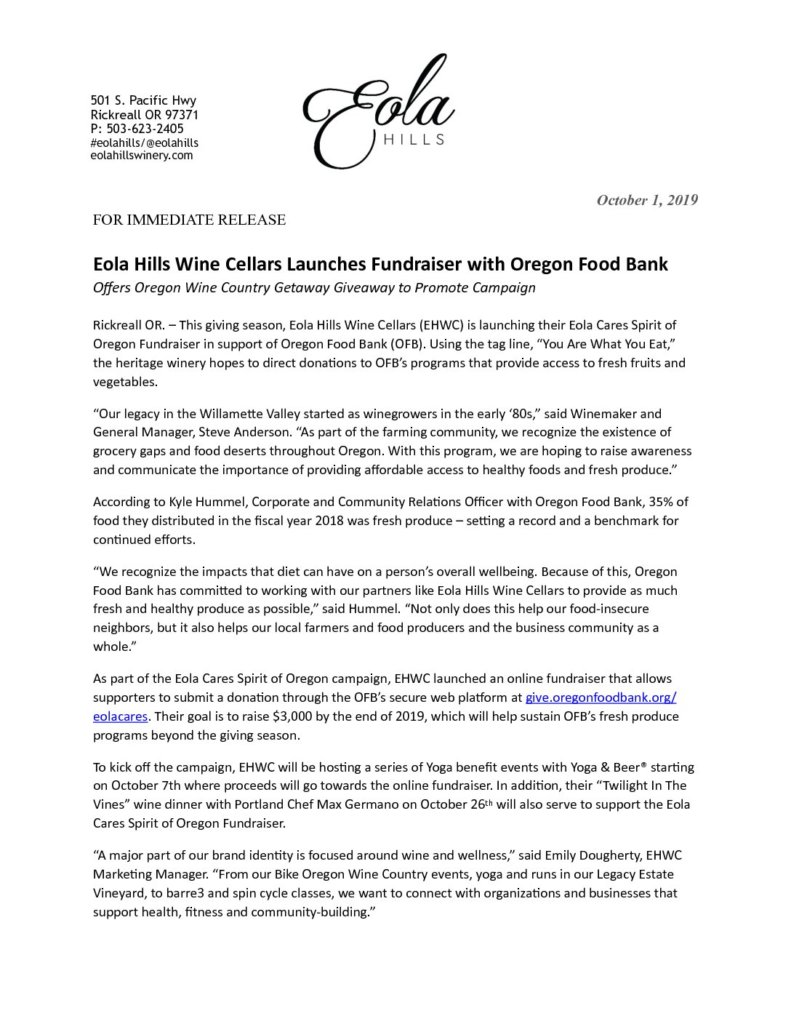 ---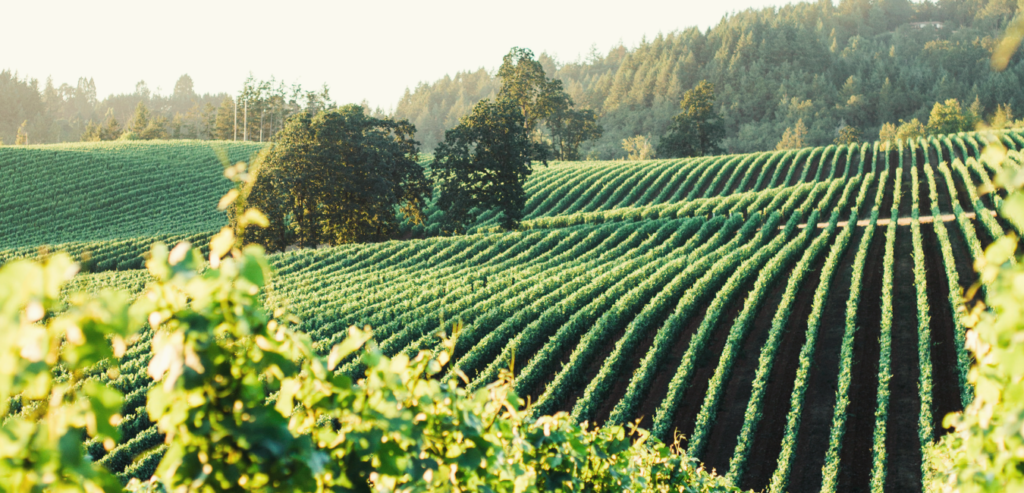 Oregon Wine Country Getaway
Our latest Eola Cares Oregon Wine Country Getaway Giveaway has closed! Stay tuned for another opportunity to join Eola Hills Wine Cellars for a unique wine country experience you'll never forget!
Visit Eola Hills Wine Cellars at our two Willamette Valley locations. Enjoy a flight at our historic winery in Rickreall, or sample our portfolio of reserve wines at our Legacy Estate Vineyard.