Eola Hills Wine Cellars' legacy in Oregon's Willamette Valley started as winegrowers in the early '80s. We have been locally owned and operated for more than 30 years. Located in the Eola-Amity Hills AVA, we own more than 325 acres of sustainably managed vineyards. We are proud to offer a diverse range of consistently award-winning wines in addition to being one of Oregon's largest producers.
We believe that one of the most beautiful features of wine is its innate ability to create and celebrate community – whether between friends, family, or complete strangers. Wine brings people together – even when we are apart. A cornerstone of Eola Hills Wine Cellars' is building community and finding ways to support a healthy lifestyle.
We want to connect with organizations and businesses that support education, health, fitness and community-building to provide our guests and customers with opportunities for balance in their busy lives.
View Eola Hills' #EolaCares programs below and join us (whether virtually or in person) in making a difference in communities around the country.
Click To View Eola Cares One Pagers & POS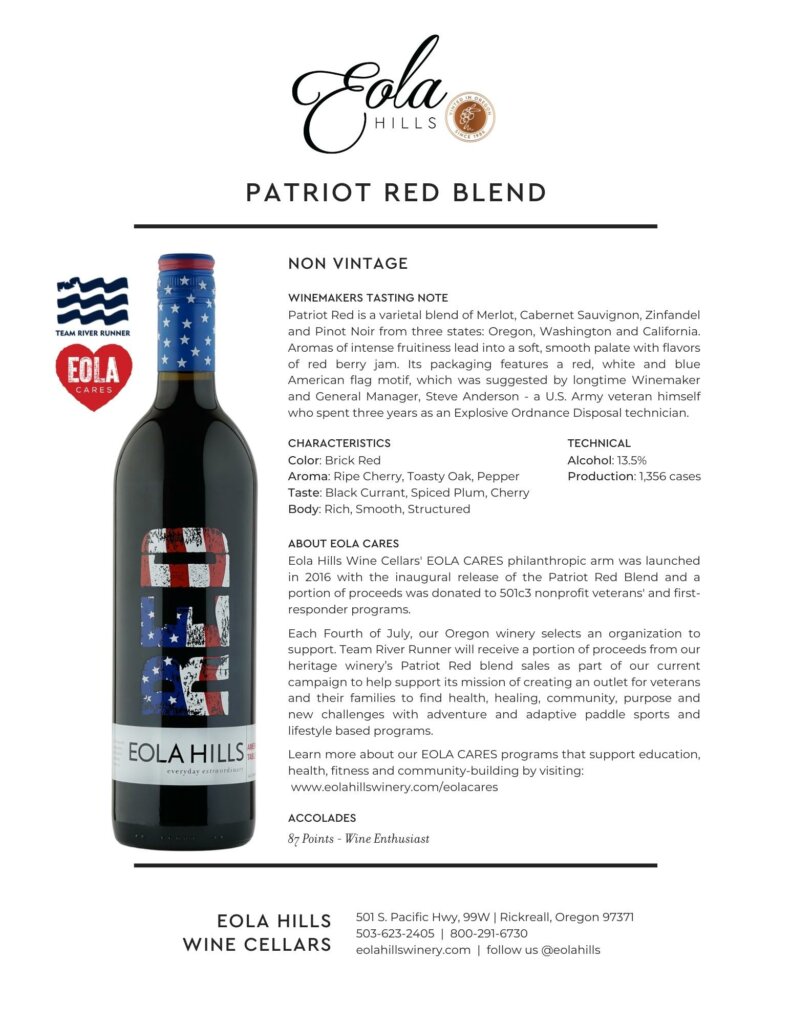 ---
Patriot RED Campaign
Serving Wine & Serving A Cause
This bold, delicious red wine is a blend of Zinfandel, Sangiovese, Merlot and Pinot Noir from three states –Oregon, Washington and California. Aromas of intense fruitiness lead into a soft, smooth palate with flavors of red berry jam. A portion of proceeds from each bottle of Patriot Red purchased goes towards supporting different programs (announced on the Fourth Of July each year) for veterans and first-responders.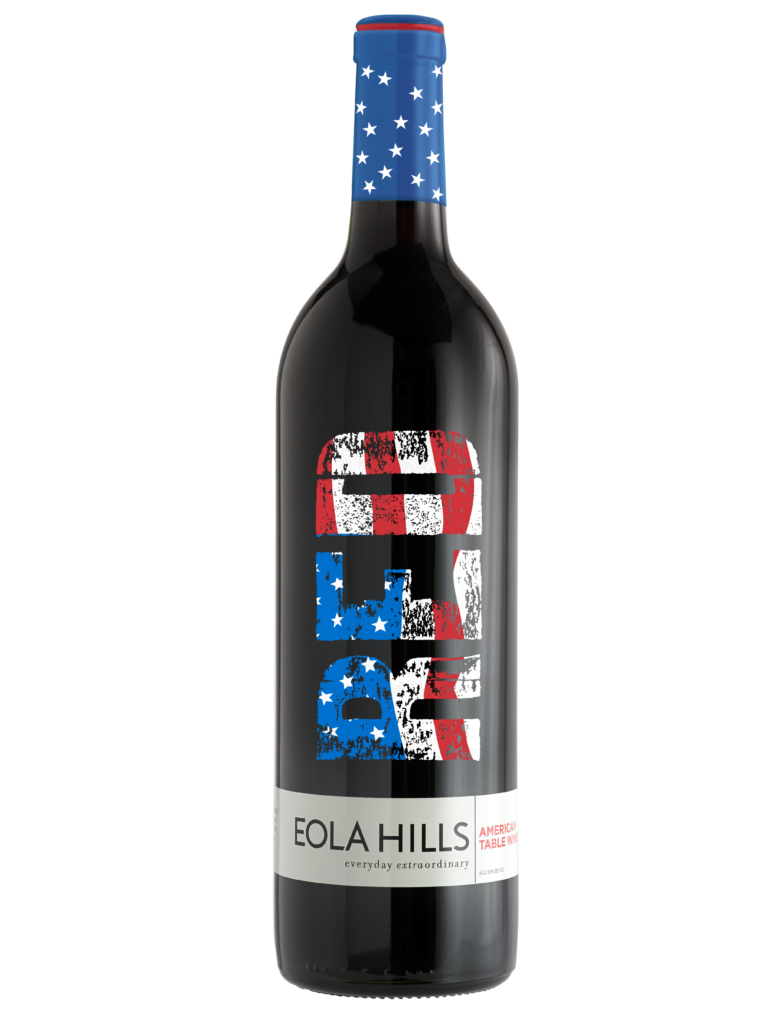 Each year, our Oregon winery selects a 501c3 Nonprofit that supports veterans and first-responders. This Fourth of July, we are proud and excited to announce a continued partnership with Team River Runner for the 2022-2023 Eola Cares Patriot Red campaign.
About Team River Runner
Team River Runner creates an outlet for veterans and their families to find health, healing, community, purpose and new challenges with adventure and adaptive paddle sports and lifestyle based programs.
"With their national presence and active regional chapters, we see so much opportunity to collaborate with Team River Runner in this next year," said Anderson. "From fundraisers and benefit dinners, our hope and goal is to make an impact for these organizations and the people they support."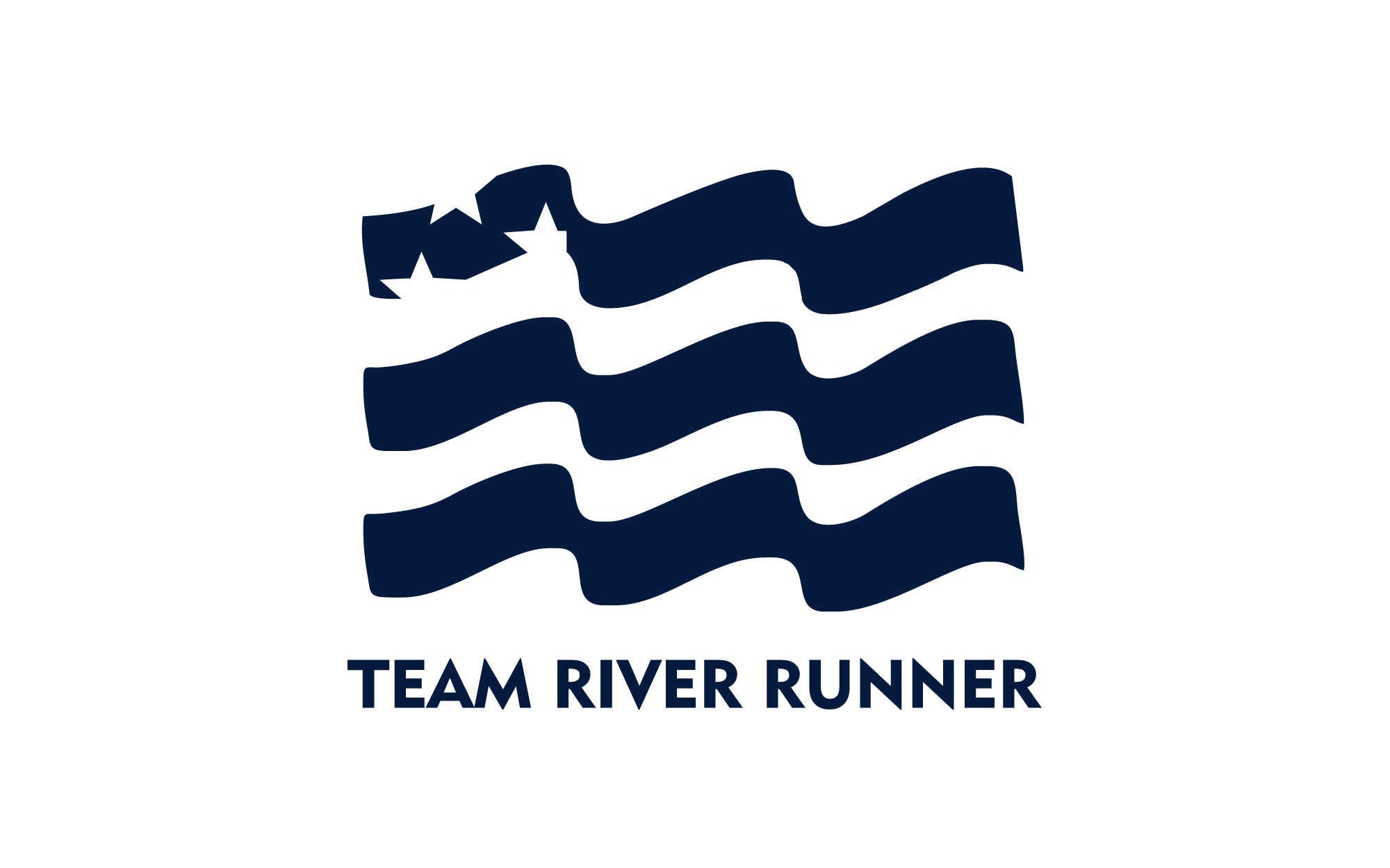 Purchase Patriot RED Today!
---
Spirit Of Oregon Campaign
Continue The Giving Season's Tradition of Togetherness
Experience the Spirit of Oregon! Join Eola Hills Wine Cellars in support of Oregon Food Bank. We believe that no one should be hungry. We believe that all should have access to healthy foods and fresh fruits and vegetables.
Help us make a difference for communities in need. Give to our Eola Cares Spirit Of Oregon Fundraiser for the Oregon Food Bank. Your secure online donation will help support Oregon Food Bank's holistic approach to ending hunger through programs and efforts that provide food, education and hope to our Oregon neighbors in need.
Click Here To Donate!
Eola Cares Spirit Of Oregon Getaway
Our latest Eola Cares Spirit Of Oregon Getaway Giveaway is open for the 2022 Giving Season! Support our Spirit Of Oregon Fundraiser benefitting Oregon Food Bank. Plus, take an opportunity to enter for a chance to join Eola Hills Wine Cellars for a unique wine country experience you'll never forget!
Eola Cares Spirit Of Oregon Getaway Official Rules
One winner will receive an overnight stay at our Eola Hills Vineyard House in the Eola-Amity Hills and a behind-the-scenes look at our winery with a cellar tour with Winemaker Steve Anderson.
No purchase is necessary to enter or win. A purchase will not increase your chance of winning. Void where prohibited. You must be at least 21 years old to enter the giveaway.
Sponsor/Administrator: The "Eola Cares Spirit Of Oregon Getaway" Giveaway is sponsored and administered by Eola Hills Wine Cellars, 501 S Pacific Hwy 99W, Rickreall, OR 97371. ("Sponsor")
Eligibility: The Giveaway is open and offered only to legal residents of the United States (except Puerto Rico and where prohibited by law), who are 21 years of age or older at the time of entry ("Entrants"). Employees of Sponsor, and its affiliates and subsidiaries, and their immediate family members (spouse, parent, sibling and their respective spouses, regardless of where they live) or persons living in the same households of such individuals, whether or not related, are not eligible to enter or win the Giveaway, nor are any licensed alcoholic beverage retailers, wholesalers, or distributors. The Giveaway is void in Puerto Rico, the U.S. Virgin Islands, U.S. Military installations in foreign countries, all other U.S. territories and possessions, and everywhere outside of the United States or restricted or prohibited by law, or where Sponsor is unable to obtain regulatory approvals ("Entrants").
How To Enter: Visit www.eolahillswinery.com/eolacares and follow the instructions for entry. Entries must be received during the Giveaway period (November 1, 2022-December 31, 2022).
Limit one (1) entry per person during the Giveaway period. All entries in excess of this limit will be deemed void. Sponsor is the official timekeeper of the Giveaway. The Sponsor reserves the right, in its sole and absolute discretion, to require proof of identity and/or eligibility (in a form acceptable to the Sponsor – including, without limitation, government issued photo identification) to participate in this Giveaway. Failure to provide such proof to the satisfaction of the Sponsor in a timely manner may result in disqualification of the applicable entries.
In order to comply with the Americans with Disabilities Act, we provide alternate entry procedures that can be requested by contacting marketing@eolahillswinery.com or by calling 1-800-291-6730.
Giveaway: One Winner will receive a VIP experience at Eola Hills Wine Cellars for winner (Selected Entrant) and his or her guest (Guest), both of whom must be at least 21 years of age at the time of entrance. The experience includes: VIP Cellar Tour experience at Eola Hills Wine Cellars and an overnight stay at our Eola Hills Vineyard House in the esteemed Willamette Valley. Total Retail Value is $699.
Airfare, ground transportation, rental cars, meals, and taxes are excluded. Incidental expenses and all other costs and expenses which are not specifically listed as part of a prize in these Official Rules and which may be associated with the award, acceptance, receipt and use of all or any portion of the awarded prize are solely the responsibility of the respective prize winner. ALL FEDERAL, STATE AND LOCAL TAXES ASSOCIATED WITH THE RECEIPT OR USE OF ANY PRIZE IS SOLELY THE RESPONSIBILITY OF THE WINNER. Alcohol will not be included in any prize.
Winner Selection: A winner will be selected from among all eligible entries received for the Giveaway, in a random drawing.
Notification: Selected Entrant will be notified by email. In order to be eligible to receive the Getaway, Selected Entrant and Guest will be required to sign and return within ten (10) days of receipt an affidavit or declaration of eligibility and liability/publicity release and any other required materials, which: (i) confirms compliance with these Official Rules,(ii) acknowledges acceptance of the Giveaway as awarded; (iii) releases the Sponsor and each of their respective officers, directors, agents, representatives, successors and assigns from any and all liability in connection with this Sweepstakes, his/her participation therein and/or the awarding and use/misuse of the Giveaway or any portion thereof; and (iv) agrees to the publication, reproduction and/or other use of his/her name, address, voice, statements about the Sweepstakes and/or photograph or other likeness without further notice or compensation, in any publicity or advertisement carried out by or on behalf of the Sponsor in any manner whatsoever, including print, broadcast or the internet. If the Selected Entrant: (a) fails to return the properly executed Giveaway documents, including Guest's affidavit/declaration form, within the specified time; and/or (b) cannot accept the Giveaway as awarded for any reason; then he/she may be disqualified (and will forfeit all rights to the Giveaway) and the Sponsor reserves the right, in its sole and absolute discretion, to randomly select an alternate eligible entrant from among the remaining eligible entries. Any alternate winner so selected will be notified by email (in which case the provisions of this section shall apply to such new Selected Entrant, modified as necessary).
Conditions: Selected Entrant consents to the use of his or her name, voice and/or likeness by the Sponsor for advertising purposes without additional compensation unless otherwise prohibited by law. All entries must be complete to be eligible and the Sponsor is not responsible for late, lost, stolen or misdirected mail/email. All entries become the property of the Sponsor and will not be returned.

By entering, participants and Selected Entrant agrees to be bound by the Official Rules and release the Sponsor and its parents, partners, affiliates, subsidiaries, officers, agents, employees, advertising agencies, and all others associated with the development and execution of the Sweepstakes from and against any and all liability with respect to or in any way arising from the Sweepstakes and/or use of the prizes, including, without limitation, liability for death, personal injury, damage or loss. All decisions of the Sponsor are final and binding; and Entrants agree to waive any right to claim ambiguity in the Sweepstakes or Official Rules, except where prohibited by law.

Disputes will be governed by the internal laws of the State of Oregon and venue for any legal action or claim must be brought in a court of competent jurisdiction in Oregon. The Sponsor reserves the right to disqualify any Entrant it finds to be tampering with the operation of the Sweepstakes or violating the Official Rules.
Limitations of Liability: The Sponsor is not responsible for: (a) undeliverable, incomplete or indecipherable entries due to, among other things, system errors or failures or otherwise, or faulty transmissions or other telecommunications malfunctions, bugs and/or problems related to the online entry; (b) technical failures of any kind; (c) failures of any of the equipment or programming associated with or utilized in the Giveaway; (d) unauthorized human and/or mechanical intervention in any part of the entry process or the Giveaway; (e) technical or human error that may occur or be encountered by Entrants in the entry process, or by the Sponsor in the administration of the Giveaway or the processing of entries, including computer system, hardware, software or program malfunctions, the presence of computer viruses or other errors, failures or delays in computer transmissions or network connections that are human or technical in nature; (f) any error, omission, interruption, deletion, theft or destruction, or unauthorized access to, or alteration of entries ; or (g) any injury or damage to persons or property (including death) which may be caused, directly or indirectly, in whole or in part, from any Entrant's participation in the Giveaway or receipt or use of any winnings. Sponsor may prohibit a Entrant from participating in the Giveaway or winnings if, in its sole discretion, it determines such Entrant is attempting to undermine the legitimate operation of the Giveaway by cheating, deception, or any other unfair playing practices of intending to annoy, abuse, threaten, undermine or harass any other players or Sponsor representatives. In the event of a system malfunction or the presence of a virus, the Sponsor reserves the right to modify or terminate the Sweepstakes at its sole discretion.
Waiver of Jury Trail: Except as prohibited by applicable law and as a condition of participating in this Giveaway, each Entrant hereby irrevocably and perpetually waives any right he or she may have to a trial by jury in respect of any litigation directly or indirectly arising out of, under or in connection with this Giveaway.
Privacy & Publicity: All personal information collected by the Sponsor will be used for administration of the Giveaway. The Sponsor reserves the right and all Entrants expressly agree that the Sponsor may use the name and/or pseudonym of the Selected Entrant and/or all photographs and videos at whatever location such visual material may be produced, except as prohibited by law. Use may include the Internet, such as the websites of the Sponsor, its social network pages including Facebook, Twitter, Instagram, YouTube etc. and other publicity, magazines, catalogs or other media. In addition, Entrants may elect to receive email correspondence from, or on behalf of Sponsor subject to Sponsor's privacy policy. Please refer to Sponsor's privacy policy to learn how to unsubscribe and for important information regarding the collection, use and disclosure of personal information by Sponsor.
Visit Eola Hills Wine Cellars at our two Willamette Valley locations. Enjoy a flight at our historic winery in Rickreall, or sample our portfolio of reserve wines at our Legacy Estate Vineyard.