Girls Night Out !
January 10, 2020 @ 6:00 pm

-

9:00 pm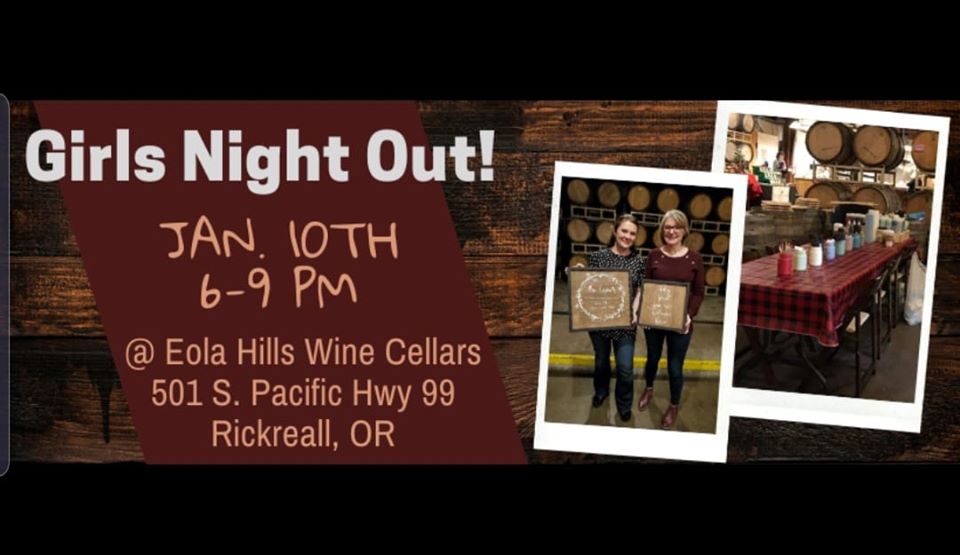 Ladies!!! Girl's Night Out with The Homestead, Little Gypsy Nail Salon and Eola Hills Winery will not disappoint!
Manicures & Merlot?
Snag your ticket for the sign making workshop below or just grab your favorite people for a glass of merlot and a manicure!
Little Gypsy Nail Salon will be on site with the best shades for your new January nails. Treat yourself to a little self care with hand massages, polish change, mini manicures and foot massages available.
Make your reservations now:
Call or text 503-535-9655 or email gypsy@gypsynailsalon.com
DIY Workshop
This is going to be a super fun DIY workshop with the Homestead Rustics & Whimsies. You will get to create your very own hand painted home decor sign. We supply everything you need including some delicious refreshments and you get to bring the FUN!
There is absolutely no experience necessary and you do not have to be "artsy" or "crafty" to successfully create with us. We will guide you and help you through the entire process as needed.
Tickets need to be purchased by January 3rd, 2020 to attend this event. This allows us the time needed to make sure everyone's supplies are prepared and cut for the event. Seating is limited and these Girls Nights like to sell out early so grab a friend or two and buy tickets now to secure your seats.
We are so thrilled to be offering a great night out for you all!
Your ticket purchase includes:
– A sign board to paint
– A frame for your sign board
– A stencil of your choice
– All the supplies needed to create your sign
– One glass of Eola Hills Classic Wine (more available for purchase)
– Appetizers
– And let's be honest…a great time!
By the end of the evening you will have a completed sign painted by YOU that is ready to take home and hang! If you don't see a design you want, just let us know. We can custom design any stencil you want. Just choose the custom option at checkout (additional $15 design fee).
CUSTOM DESIGNS:
If you choose a custom design option at checkout the total cost will include the $15 design fee. We will be working with you to design a unique stencil for a truly custom sign. As soon as your ticket is purchased we will be contacting you within a couple days to start the design process. Please be sure to include your email address or your preferred method of contact at checkout. We will need to be able to chat with you about your design and send you proofs of the designs for you to approve before the stencil is cut!
** Please choose the custom design option at checkout If you choose a posted stencil that requires customization (ex. monograms, anniversary dates, family established signs), the $15 design fee will be added.
Thank you so much for purchasing and supporting a small business. We are so honored and excited to design something special for your homestead and teach you how to make and paint it!
-The Homestead Ladies
Leah & Montella
***Please Note***
We do not accept returns or exchanges for these events. The signs and stencils are made specifically for this event. Once we receive payment for your ticket, your sign and stencil are cut in preparation for the event.