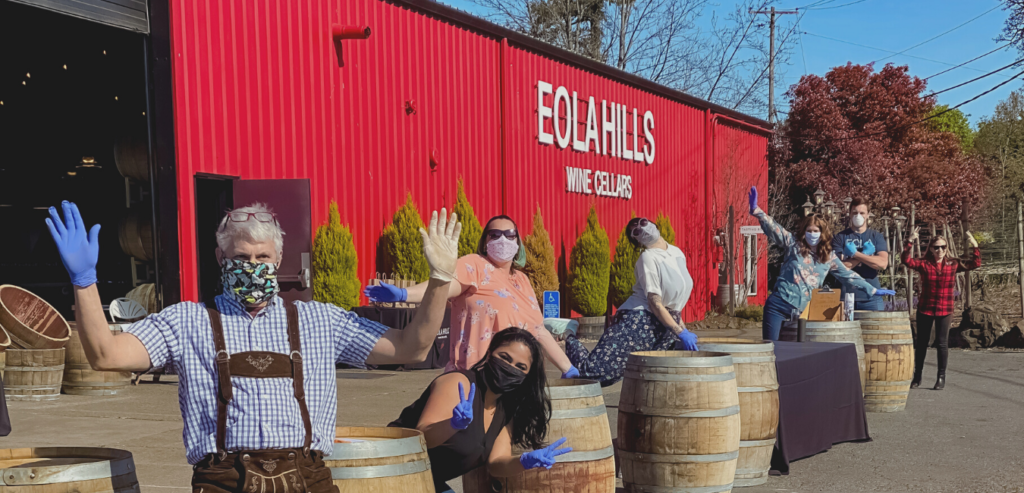 Keep It Safe With Eola Hills
One of the most beautiful features of wine is its innate ability to create and celebrate community – whether between family, friends or complete strangers. Wine brings people together – even when we're apart.
In our nearly 35 years as a family-focused winery and vineyard operation, we've certainly seen some ups and downs. We have always felt supported by the welcoming community of wine lovers across the country, and over the years many of you have become a significant part of our Eola Hills family. In light of the Coronavirus (COVID19) pandemic and recommendations regarding public gatherings, we want our friends around the country to feel safe and comfortable. Our team has crafted a comprehensive response to ensure our wines continue to be available with ease for your enjoyment.
We hope these options for receiving Eola Hills wine provide a respite in these stressful times. In taking precautions today, we hope normalcy will soon return and our community will be stronger for it.
* Please view our Legacy Estate Offerings and our Wine Cellars Offerings for more specific details on our service and safety protocols per current regulations, or Contact Us to confirm our offerings and availability.
Safety Protocols For Staff & Guests:
With the state lifting all remaining COVID-19 health and safety restrictions, Eola Hills Wine Cellars is excited to share a more unencumbered wine country experience with our friends, guests and staff. We acknowledge that risks remain. Our team will continue its rigorous sanitizing and disinfecting measures while making extra efforts to ensure your visit is free of worry and concern. We will work to maintain appropriate social distance between seatings and groups. In line with the CDC and Oregon Health Authority, we encourage individuals who are unvaccinated or who are at risk for severe COVID-19 disease to continue to wear a mask and maintain physical distancing from other parties or when in crowded areas.
Learn more about our current experiences!
Rickreall Wine Cellars | Legacy Estate Vineyard
Additional Ways To Wine With Eola
Wine Online
For those interested in bringing wine to your doorstep or the doorstep of a loved one. Shop Now!
Curbside Pick-Up
Call (503-623-2405), Email or place an Order Online to be picked up at our Eola Hills Rickreall winery. Give us a ring before you head out to wine country and we make sure your order is prepped and ready to load into your car upon arrival. *When placing an order online, be sure to select the button "Pick Up At Eola Hills – Rickreall," (as opposed to the "Legacy" button) during checkout.